One of the things we take for granted with modern digital photography is that with every photo we take, our camera automatically records metadata about the photo and embeds it into the JPEG or RAW file it creates. When I started shooting film, it was hard to get used to the idea that if I wanted to remember the aperture or shutter speed I used, I would need to manually take notes. And if I wanted to add this information to the JPEG, I'd have to use software like Exif Editor to manually add it to one photo at a time. Surely, there was a better way.
I did some research and learned that several film cameras released in the late 1990s and early 2000s actually recorded all of this data internally. For example, the Nikon F6 has enough internal memory to store "detailed" data about your most recent 31 rolls of film. (You can also change a setting and have it instead store "basic" data for your last 57 rolls.) Then, using an accessory called the MV-1, you can download this information to a… CompactFlash card.
Then I came across the final piece of the puzzle: a hardware and software solution called Meta35 that allows you to connect any of the supported cameras directly to your computer, allowing you to import the data and automatically sync it to your film scans.
I was amazed that a company had already put in the time and effort to solve this extremely niche problem, so I decided to buy a Nikon F6 and a Meta35 and give it a go.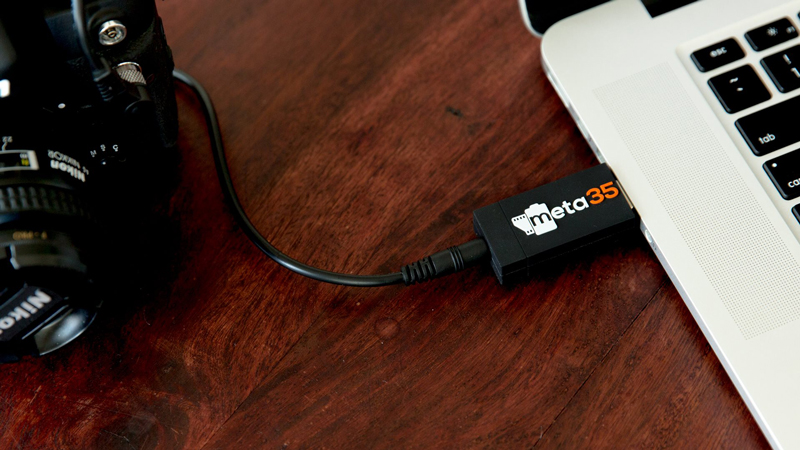 In 2019, I bought a Nikon F6 and began using it as a replacement for my Canon AE-1. (I have really enjoyed using it and plan to write separately about it in the future.)
However, acquiring a Meta35 turned out to be more difficult than expected. The big online camera stores had none for sale. I searched eBay and found them reselling for outrageous prices, on the rare occasion that someone would list one for sale.
While waiting to find the hardware device, I also downloaded the Meta35 software, only to find that it hadn't been updated in several years and would not work with any macOS version newer than 10.12, which was released in 2016. I wrote to Promote Systems, the company that created the Meta35, asking if it would ever be updated to support newer versions of macOS, as support for older 32-bit apps was about to be dropped. I got a short response: "We do not plan to update to 64-bit." At that point, I realized that the Meta35 product had effectively been abandoned.
I briefly considered Plan B: trying to find a Nikon MV-1, using that to sync the data from my camera onto a CompactFlash card, using a series of adapters to transfer the file onto a modern computer, and maybe writing my own script to sync this onto my film scans. Unfortunately, the MV-1 was also very rare and expensive. So, for awhile, I mostly just forgot about it and continued using my Nikon F6 just like any other "dumb" film camera.
Finally, in 2021, I checked the Meta35 website and found that Promote Systems was shutting down and selling off their remaining supply of Meta35 units. I realized that if I ever wanted to try it out, this may be my last chance, so I took the opportunity to pick one up.
After getting my hands on a Meta35, the next challenge was trying to get the software to work. After some failed attempts to run it within a virtual machine, I decided to downgrade an older MacBook Air to run macOS 10.12, the last version of macOS compatible with the Meta35 software.
It worked!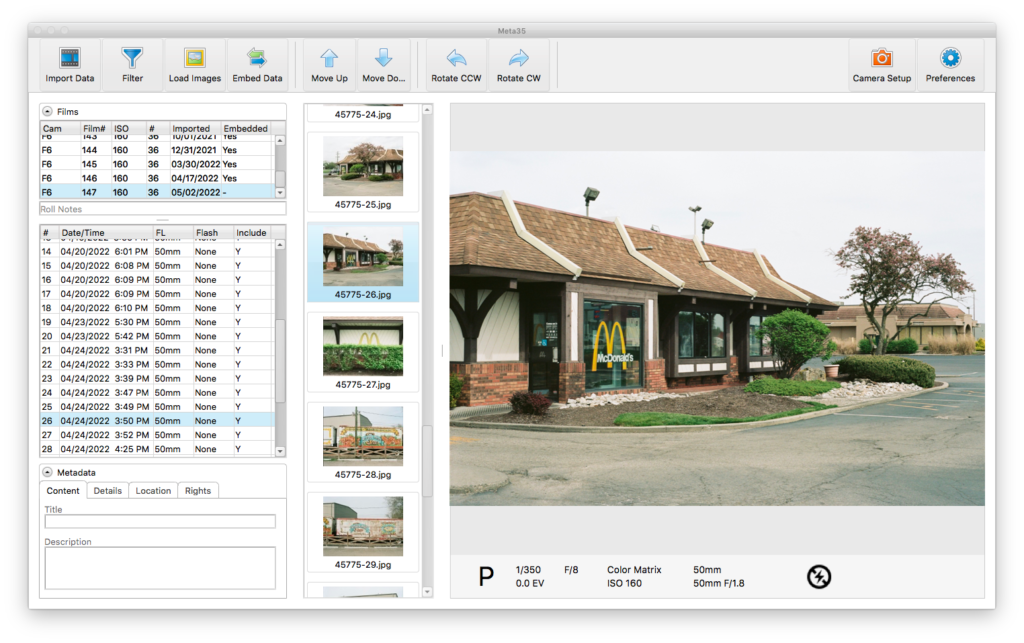 I was able to connect my Nikon F6 to my MacBook Air and import the metadata. Then, I could load in the film scans that I downloaded from The Darkroom and transfer the metadata onto them. Now, each of the JPEGs contains accurate information about the date and time that the photo was taken and all of the camera settings used.
One obvious benefit to this is that when I view my film scans in Lightroom or on Flickr (see example), I can see what mode the camera was in, what lens I was using, what aperture and shutter speed were used, and lots more.
And now each JPEG has the correct date and time (when the photo was actually taken, not when it was scanned) so the photos appear in the correct order when I add them to my photo libraries, including Google Photos and Photos on iOS and Mac.
I'm not going to nitpick the quirks of 7-year old software that was probably written by a single developer or a very small team for a niche purpose. It's a little outdated by today's standards, but it works well for what it's meant to do. I had to jump through a few hoops to get it working, but I'm glad I did.
All of the Nikon F6 photos I've uploaded to Flickr since September 2021 contain EXIF data added via the Meta35, in case you want to see the results for yourself.
---
More about the Meta35: